passed away today. She was one of my favorite authors and an Egalitarian Bookworm Chick extraordinaire. Her memoir,
Are You Somebody?
is one of the most frank and vivid self-portraits I've ever read. It reads like fiction, and among all the tell-all books about sex, it stands out for its lyrical, unapologetic, treatment of her own sexuality and her life as a young bohemian writer and radio producer in Dublin and Oxford.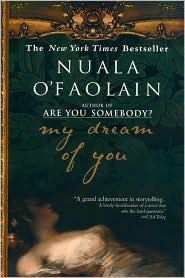 Her novel,
My Dream of You
, which I read while living in Galway, Ireland is also an electrifying read. It's about a middle-aged woman (clearly based on the author herself) researching a love affair during the potato famine who stumbles into her own affair with a married man. It intersperses the modern story with the 1848 one, and for those who are interested in Irish history as well as good, sexy, mysterious fiction, I couldn't recommend it more. O'Faolain's prose shows her to be a clear inheritor of the Joycean tradition of writing unashamedly about the human body, while also being able to pinpoint much of the longing within the Irish soul.
O'Faolain was also a badass feminist, leftist, and spiritual atheist. She was one of those writers whom I just loved as a person because her writing was so warm and loving. It's sad that she passed away relatively young, and I will treasure her prose always.