this is the bit from "
Locksley Hall
" (which is an extremely odd, but interesting poem) that was featured on Cranford last night, when Judi Dench's character, Matty, reads the lines aloud after her long-ago lover, Mr. Holbrook, dies. Holbrook's last gift to Matty was a volume of Alfred, Lord Tennyson's poems:
---


Better thou and I were lying, hidden from the heart's disgrace,
Roll'd in one another's arms, and silent in a last embrace.


Cursed be the social wants that sin against the strength of youth!
Cursed be the social lies that warp us from the living truth!

Cursed be the sickly forms that err from honest Nature's rule!
Cursed be the gold that gilds the straiten'd forehead of the fool!

Well--'t is well that I should bluster!--Hadst thou less unworthy proved--
Would to God--for I had loved thee more than ever wife was loved.


---




I have to admit a soft spot for Tennyson. This littel excerpt is somewhat neo-Romantic, tho' the Victoirans and Romantics very much blended into each other.
Cursed be the social lies!
I love it.
Here's another odd, but intresting, Victorian artifact to go along with our Tennyson: Dante Rosetti's "The Blessed Damozel", which hangs in the art museum at my alma mater.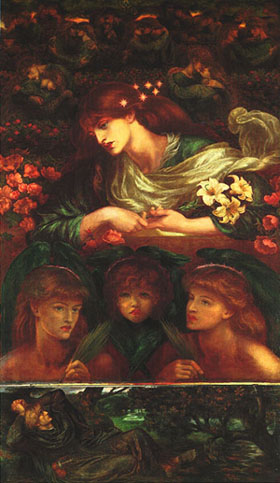 And they say the Victorians were proper. They were wacky!