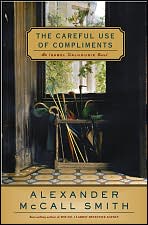 An Isabel Dalhousie novel by Alexander McCall Smith.
I just
love the Sunday Philosophy Club
series, which take place in pubs, galleries, and concert halls in rarefied Edinburgh and beyond. As much as Smith's Precious Ramotsowe No. 1 Ladies Detective books charm me, this series has something they don't: a smouldering yet realistic romance. Plus there's a delicatessen that serves cheese and pickles and lots of trips to the misty Scottish Countryside. Also did I mention the hot [discreetly implied] May-December sex?
Anyway, this latest installment keeps the mystery, the aestheticism, the gentle snobbery and all that good stuff going... there's a painting forgery scandal, a juicy argument with Isabels' shallow niece Cat, and yes, our philosophical Isabel has a little bundle of joy.