Who steals our hearts in the big or small screen dramatizations of Wharton, Austen, Bronte and Bronte, James, Forster, Eliot, and more? Part 2.
#6-Daniel Day-Lewis

Makes the list for his embodiment of the early-modern romantic hero in the
Age of Innocence
. As in, he plays that epitome of wealthy indecision, the New York son of fortune Newland Archer--who is caught between Winona Ryder's sweet intended fiancee and Michelle Pfeiffer's sensual countless Olenska. From the first scene in Scorcese's underrated film where Day-Lewis puts the opera glasses on and sees Pfeiffer across the massive opera house, to the final scene with leaves falling in a wistful shot of Paris, he's melencholy and pondering and yes, we realize, the Victorian era is long gone. In
A Room With a View
, Day-Lewis plays the safe fiancee himself, Cecil Vyse, unable to understand why Helena Bonham carter has a thing for Julian Sands' George Emerson (and more on him, later).
#7--Timothy Dalton
We're
bonded
to this rather gruff and severe actor because he's gone where no one, not even Sir Lawrence himself has gone. To the moors...twice. To play Bronte anti-heroes Rochester and Heathcliff. His Heathcliff was particularly brutish, growling, and, well...
dirty
. And that's why he deserves a spot.
#8-Anthony Hopkins
What? Anthony Hopkins? Think about it. He lights up Merchant Ivory productions, and is equally at home on a manor lawn as he is feasting on brains. Obviously, he particularly dazzles in the tear-jerking, understated butler role that's one of the best roles in literature or film... like, ever ever ever...
The Remains of the Day
opposite Emma Thompson. And he does Forster proud as the less-than-honest Wilcox hubby in
Howard's End
opposite....Emma Thompson. Plus, he also plays this really erudite guy named Hannibal.
#9-Samuel West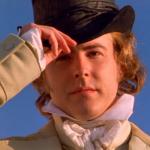 Who the heck is he? Only the unprecedentedly dishy Austen anti-hero Mr. Elliot, so beautiful, so charming, that when he looks up at his cousin Anne on the beach and doffs his hat, staring wide-eyed at her reborn beauty, everyone knows that he's about to become a player for her heart. West also plays Helena Bonham-Carter's ill-fated working class love interest Leonard Bast in
Howard's End
. And anyone who has an affair with B-Carter while she's in Corsets is, like, seriously Major.
#10-Matthew MacFayden
I wasn't going to put him on this list, because of my general opposition to the liberties the new "Love Actually... And
Pride and Prejudice
" Kiera Knightley -heaving-bosoms-in-the-mist film version takes with Austen's text (I don't have the same problem with Ang Lee's equally rapacious S&S, but I'll explain that another time). But MacFayden is damn good, kind of mixing sneering and sniffing with a bit of adorable lip-trembling. And I hear he plays Sir Felix in the Masterpiece Theater Mini-series of
the Way We Live Now
, which I'm currently reading, so that's why he's grudgingly up here.

Runners up will be announced tomorrow. Still haven't forgotten Will Ladislaw.