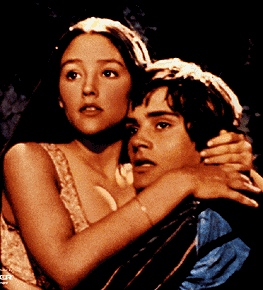 Thus the New York Times dubs Romeo and Juliet, who are due in Central Park this summer for the annual Delacorte Theater "I am a hip and literate New Yorker" free love-fest, not to be confused with the annual Great Lawn "I am a hip and (wine-guzzling Classical music) literate new yorker" free love-fest which occurs in its near proximity.
Questions that this announcement brings to mind are:
1-If I had taken my mini-gangstas from the Bronx, whose reactions to reading
R and J
were mixed (and hilarious), to the Delacorte theater, would they have shouted expletives at the actors or fallen asleep? Or beat me up?
2-Will I fail to get my ass on line by 8 am for the fifth, sixth or seventh summer in a row (I don't know, I've lost count!)?
3-Does Romee-oh for what Julie-et?
4-What would have happened if Juliet had woken up like 30 seconds earlier, huh?
5-Which is the better pop song adaptation of "R and J"-- "Exit Music (for a film) by Radiohead,
"Romeo and Juliet" by Dire Straits/Indigo girls or "Romeo had Juliette" by Lou Reed? Answer. They all rock, cause they're inspired by the BARD, yo!
Sample lyrics for each:
Exit Music:
You can laugh
A spineless laugh
We hope that your rules and wisdom choke you
Now we are one
In everlasting peace
We hope that you choke.. that you choke
R and J:
Yeah now and all I do is miss you
And the way it used to be you know
And all I do is keep the beat
I keep bad, bad company
And all I do is kiss you
Through the bars of a rhyme
When julie I'd do the stars with you
Anytime
Romeo had Juliette
Manhattan's sinking like a rock
Into the filthy hudson what a shock
They wrote a book about it
They said it was like ancient rome
The perfume burned his eyes
Holding tightly to her thighs
And something flickered for a minute
And then it vanished and was gone
.
And now I must vanish and be gone. Love, Fellow-ette.